Posted by Superhairpieces on 2022 Nov 15th
If you're a woman dealing with hair loss, and you're looking to get an instant full head of hair again, you will require either a wig or a hair topper. But with so many options out there with these women's hairpieces, you may end up confused as to which type is better suited to your needs.
While both are great and solid options for concealing women's hair loss, the type and level of hair loss you're experiencing will really determine whether you require a wig or a hair topper. So with that said, keep reading to figure out which hairpiece for women is right for you.
What is the difference between a wig and a hair topper?
First, it's important to know what the differences between a wig and a hair topper are. When it comes to wigs, they are usually full cap, meaning they cover the full head or scalp. They can be securely attached without the need of any glue, clips, or tape as they can securely fit on your scalp similar to a hat or cap. That said, you can use glue, clips, or tape if you prefer to have that extra secure hold. Finally, they can be worn regardless if you have a good amount of hair remaining or none whatsoever.
Hair toppers, on the other hand, are smaller than wigs and cover certain areas of the scalp. Also known as wiglets, top pieces, or half-wigs, they usually require clips or an adhesive such as glue or tape to attach them. Most crucially, you are required to have some or a good amount of hair in order to wear a hair topper. This is because the hair of the top piece is meant to blend with the wearer's real hair in order to create a natural-looking appearance.
When should I be wearing a wig?
So when should you be purchasing and wearing a wig? In general, wigs are usually worn by those with extreme or total hair loss, or those who are undergoing chemotherapy for cancer treatment and have temporarily lost all their hair. If you have virtually no hair left, a wig is your best option.
With that said, you can wear a wig even if you have plenty of hair remaining. Today, many individuals, mostly celebrities and influencers, decide to wear wigs in order to try out different hairstyles and hair colors. That's despite having plenty of hair already. The reason for this is that it's simply safer for their natural, real hair, and it's more convenient to have a wig to use for a special hairstyle for a special occasion. If you're looking to experiment with your look, you can certainly try out a wig. But if you're only looking to address hair loss in certain areas and have a good majority of your hair left, there are better options out there.
When should I be wearing a hair topper?
Hair toppers are mainly for those who want to conceal thinning areas, balding areas, or bald spots on their scalp. Have a bald spot in your crown area? A hair topper fixes this. Experiencing thinner hair in your parting line? Again, a top piece solves this problem. Simply want more volume as a whole? Hair toppers are your saviour! They also come in many sizes depending on your level of hair loss. But again, they are only ideal if you have hair remaining on your scalp. Remember, hair toppers are meant to blend with your remaining hair in order to achieve a realistic and natural-looking appearance. This is another reason you should make sure to choose the right hair color as it needs to be as close to your natural hair color.
If you a few small bald spots, you should not get a wig as it will be an unnecessary purchase and will just weigh on your head. Likewise, if you have near or total hair loss, a hair topper is essentially pointless and you're better off wearing a wig.
To sum it up, a wig essentially gives you a brand new head of hair, while a hair topper fills up areas with volume and length on your existing hair.
What are the best wigs to wear for hair loss?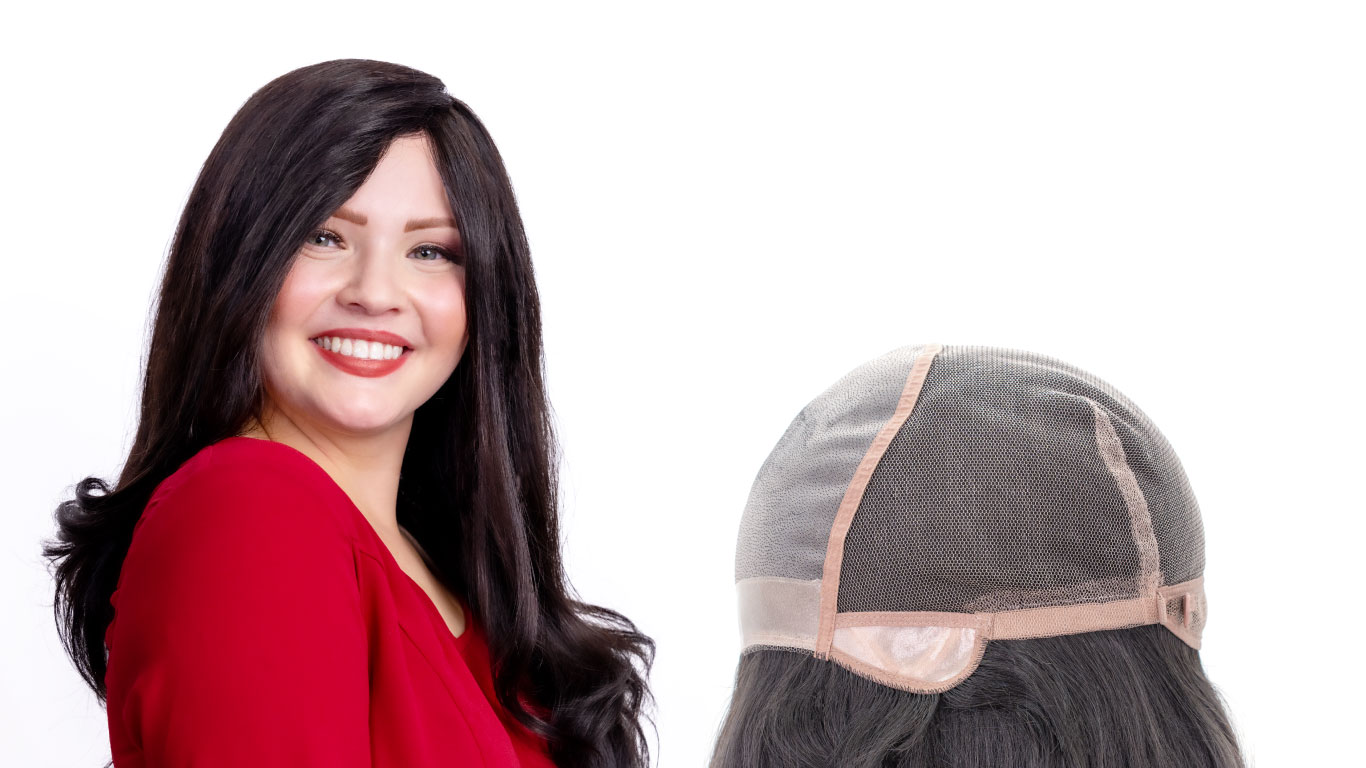 It should be pointed out that as they are bigger and come with more hair, wigs are more expensive than hair toppers. Any women's hairpiece that makes use of 100% real human hair will naturally be expensive in general as well. With that said, we recommend the following wigs, especially for beginners or newcomers:
If you are using a wig for medical reasons, check if you qualify for wig insurance to save on costs!
What are the best hair toppers for thinning hair?
The following are the hair toppers we recommend for anyone looking to get started with adding volume or concealing bald spots or thinning areas:
Of course, you may require a smaller or larger one depending on your needs. To get a specific recommendation, consider booking an online consultation to speak to one of our hair specialists!
------------------------------------------
Interested in learning more about getting started with hair extensions? Browse through our website at www.superhairpieces.com (US & International) or superhairpieces.ca (CAN)
Don't forget to tag us at @Superhairpieces and #Superhairpieces on your social media channels to get a shoutout! And make sure to like us on Facebook, follow on Instagram and subscribe to our YouTube channel!