Posted by Superhairpieces on 2022 Aug 17th
As a supplier of hair replacement systems, one comment we regularly see especially on our TikTok account is to "just shave it off and go bald." Most of the time, these are trolls commenting on videos of our clients having a full head of hair again thanks to their toupee hair systems.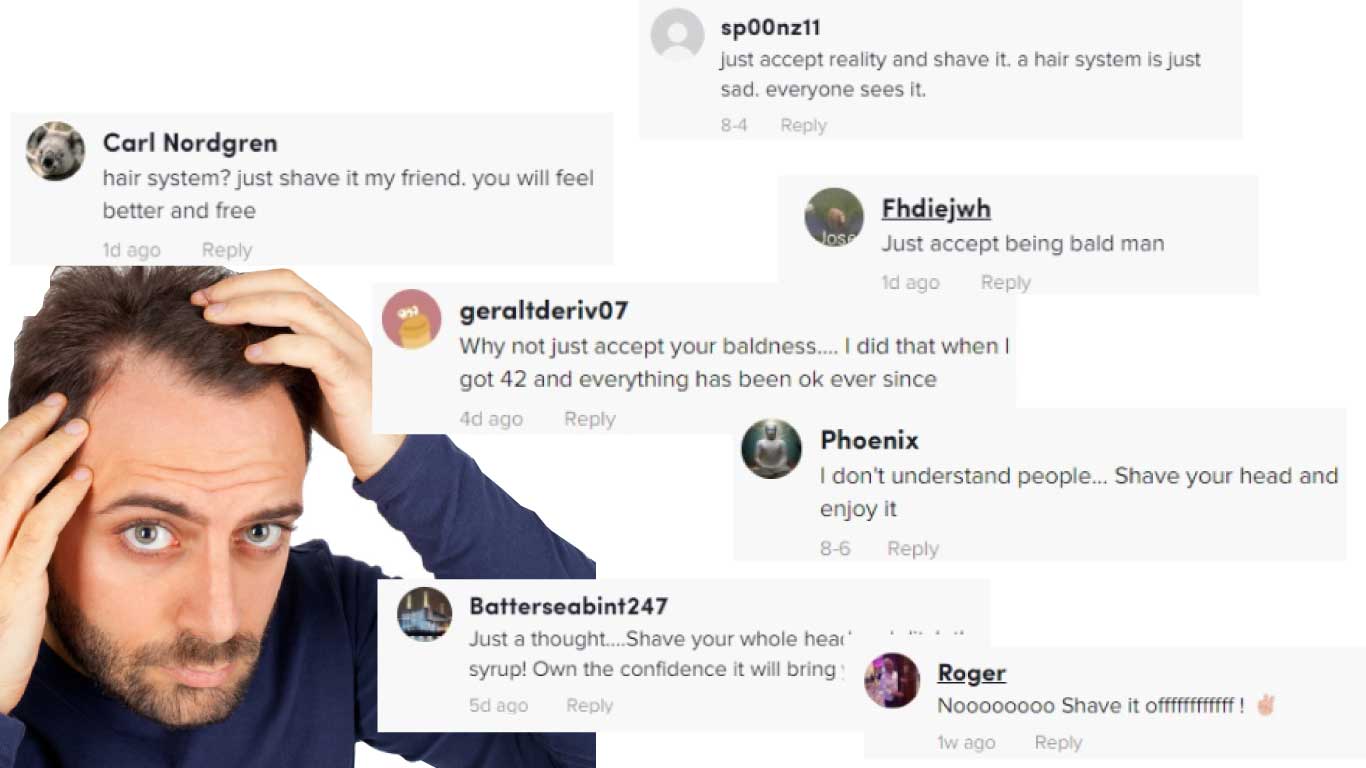 However, there does seem to be a prevailing belief that men suffering from balding (androgenic alopecia) or thinning hair should just shave everything off and embrace their hair loss rather than opting for other solutions such as hair transplants or non-surgical hair replacement systems. This blog will dive into the topic further and explain why that's not possible for everyone.
Why do people encourage others with hair loss to shave their heads?
The main reason people encourage those who are balding or dealing with hair loss to shave it off is so that the person can embrace their baldness. For some, this works out very well. Many have spoken of how a huge weight was lifted off their shoulders once they went entirely bald or opted for a buzz cut. After all, they were no longer worried about their hair or the back of their head — they could simply go on with their life. Certain men can even look better when bald.
In many cases, it's those who are already bald urging others to follow their lead by shaving everything off. That's notably the case with a good majority of our TikTok comments. The /r/bald subreddit, meanwhile, has 60,000 subscribers at the time of writing and also encourages the same. After all, their philosophy is as described: "Embrace bald and strive to make the world a more bald-friendly place."
There's certainly nothing wrong with being bald. But with all that said, the idea of going bald doesn't appeal to everyone.
READ: Alopecia, misconceptions and how to combat it
Not everyone looks good bald
It's important to note that not everyone will look good bald. You need to have the right features to confidently rock a bald look. For example, the head shape matters. The fact is certain head shapes suit a bald head more than others, and if you don't have an oval or diamond-shaped head, you will likely not look too good without hair. Not everyone can look as good as The Rock when they go bald!
Other features such as a strong jawline or chin can help accentuate a bald look even further. Growing out a beard can also take attention away from a bald head which is an option many go for as it's hard to go wrong with a bald and bearded look. But, if you're unable to grow or have no facial hair at all and decide to go bald, you run the risk of looking like a giant baby.
For many balding men, they also tend to visibly age as they experience hair loss. A young bald man could potentially look five to 10 years older than they currently are just by being bald. Even a receding hairline is enough to age them a few years. Here's one example of a Superhairpieces client looking years younger after regaining a full head of hair with the help of a hair replacement system: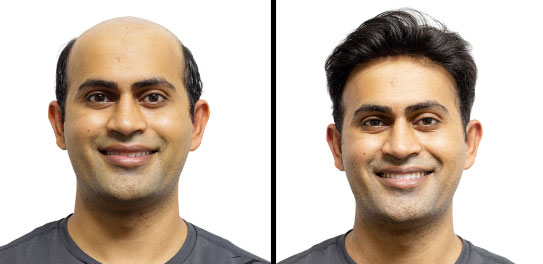 Psychological impact of men's hair loss
There's also the psychological impact of losing one's hair. It may not seem like it, but for a number of men, their hair can be their identity. It's not only women! Some men might not realize it until they start losing hair, but once they do, they can experience a number of mental health issues. These include antisocial personality disorder, major depression, body dysmorphia, social phobia and even suicidal thoughts.
Even putting these issues aside, balding men can suffer from low self-esteem and a huge drop in confidence. As per a 2019 International Journal of Trichology study, it was found that androgenic alopecia lowered the quality of life for men, particularly with self-perception and interpersonal relationships. This was notably the case with longtime Superhairpieces client Rick.
And whether true or not, there is also the general belief that balding symbolizes aging and debility.
Shaving it off doesn't help those who want their hair back
With all the above stated, it should become much clearer as to why someone might be hesitant to take the plunge and go completely bald. If you still believe shaving it off is the best solution, think of it this way; people who don't want to lose their hair aren't going to do the exact thing they're stressed and terrified about which is going bald. To use an extreme comparison, if you're scared of getting cut while cooking, you're not going to cut your whole arm off, are you? You will look for a solution instead.
But what is the best solution? As aforementioned, hair is equivalent to one's identity, so a good majority will want to get their hair back rather than shaving it all off. And if you're looking for something that is safe with no side effects and instant results, a men's hair system is exactly what you're looking for.
As Superhairpieces client and hairstylist Matty explains, "I have a lot of clients where their hair has been a part of their identity for so long and for so many years. And then going into their twenties, going bald kind of took away from their identities so for me, what I suggest is yeah you can go all bald. But the solution for this is you don't have to. And this is very easy and if you are someone who finds their confidence in their hair or a big part of their personality is their hair, then I find that hair systems are exactly what can help you."
Superhairpieces is a leading supplier of toupees and hairpieces in North America and only uses 100% human hair. We have warehouses in Sunrise, Florida and Mississauga, Ontario, Canada with a salon in the latter. And for a limited time, you can also get 40% off online services such as the cutting, perming and colouring of your hair system. So what are you waiting for?
Start your hair system journey today!
-------------------------------------------------
Interested in learning more about getting started with hair systems? Browse through our website at www.superhairpieces.com (US & International) or superhairpieces.ca (CAN)
Don't forget to tag us at @Superhairpieces and #Superhairpieces on your social media channels to get a shoutout! And make sure to like us on Facebook, follow on Instagram and subscribe to our YouTube channel!