Professional finished wigs for medical hair replacement system. MSRP
US$1500.00
Mono Top:
Top area made from mono-filament lace with super fine silk inner layer. It mimics skin tone to give the illusion of a scalp. Breathable, soft and natural looking.
Back:
Stretch Net Hand Tied Weft with Adjustable back hooks
Lace Front:
1/2" French lace front to create the look of a natural hairline. The integration line from French lace to mono-filament silk is seamless and is nearly undetectable.
Wigs for Cancer Patients & Medical Hair Loss. For those with moderate to severe hair loss, monofilament top with 100% hand-tied caps are ideal for those experiencing scalp sensitivity.
They are comfortable and softer to the touch than regular traditional or capless wigs.
Return Policy: Stock Hairpieces
You have 15 days from the date of purchase to return your untouched hairpiece for a full refund, minus the shipment paid.
A restocking charge of $15.00 or more per item will be automatic applied if the returned item is not in its original condition and packaging.
If you have selected a final sale option, such as base cut, hair styling, bleached knots, perm, or any service that alters the hairpiece permanently, the hairpiece can no longer be returned or exchanged.
Any special requirements need to be addressed at the time of the order being placed.
Return Policy: Hair Extensions
Returns accepted within 2 weeks of ordering, they must be in their original condition and packaging.
After 2 weeks an 80% credit of the value will be added to your account towards future orders.
Large returns are subject to a handling fee.
No returns after 3 months of ordering.
Return Policy: Supplies
All supplies are final sale and cannot be returned or exchanged under any circumstances. This policy is strictly enforced.
Overstock and Final Sales Items:
All items located in the overstock and clearance category are final sale, no return, no exchange, no refund.
All online services items including base cuts, haircuts, perms, bleached knots, and coloring are all final sale. There is no return, no refund and no warranty once the hairpiece has been permanently altered.
Click here for more detail
14 days after shipment for exchange or Refund within 2 weeks only in ORIGINAL condition 15% restocking charge if hairpiece returned without original condition No exchange or return after 14 days No Warranty
Frequently Asked Questions
There's a good chance you will get your custom order placed in January or February in May (2-3 months waiting time).
However, with all the disruptions and uncertainties during the pandemic —and depending on the type of hairpiece you order— the average waiting time for custom orders is 5-6 months.
Here's how it looks now in May 2021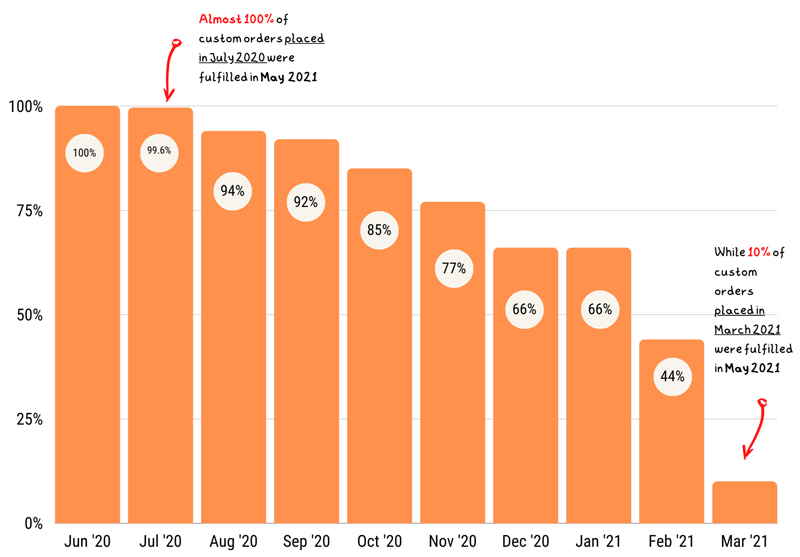 And here's our custom order fulfillment progress in 3 months (since March):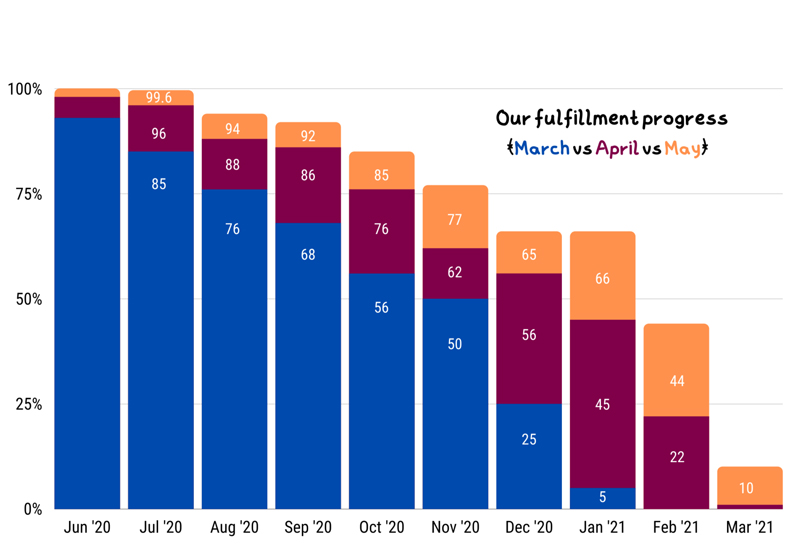 ×