Posted by Superhairpieces on 2021 Oct 7th
It's October, which means we are just weeks away from one of everyone's favourite days of the year — Halloween. While some of us are too old for wearing Halloween costumes, that doesn't apply to everyone as there are still many folks bringing out their inner child and getting dressed up.
One way to further accentuate one's look or costume is to temporarily dye their hair. And whether you're wearing a wig or hair extensions for the special occasion or just using your natural hair, you've come to the right place as far as learning how to temporarily dye your hair for Halloween!
Hair chalk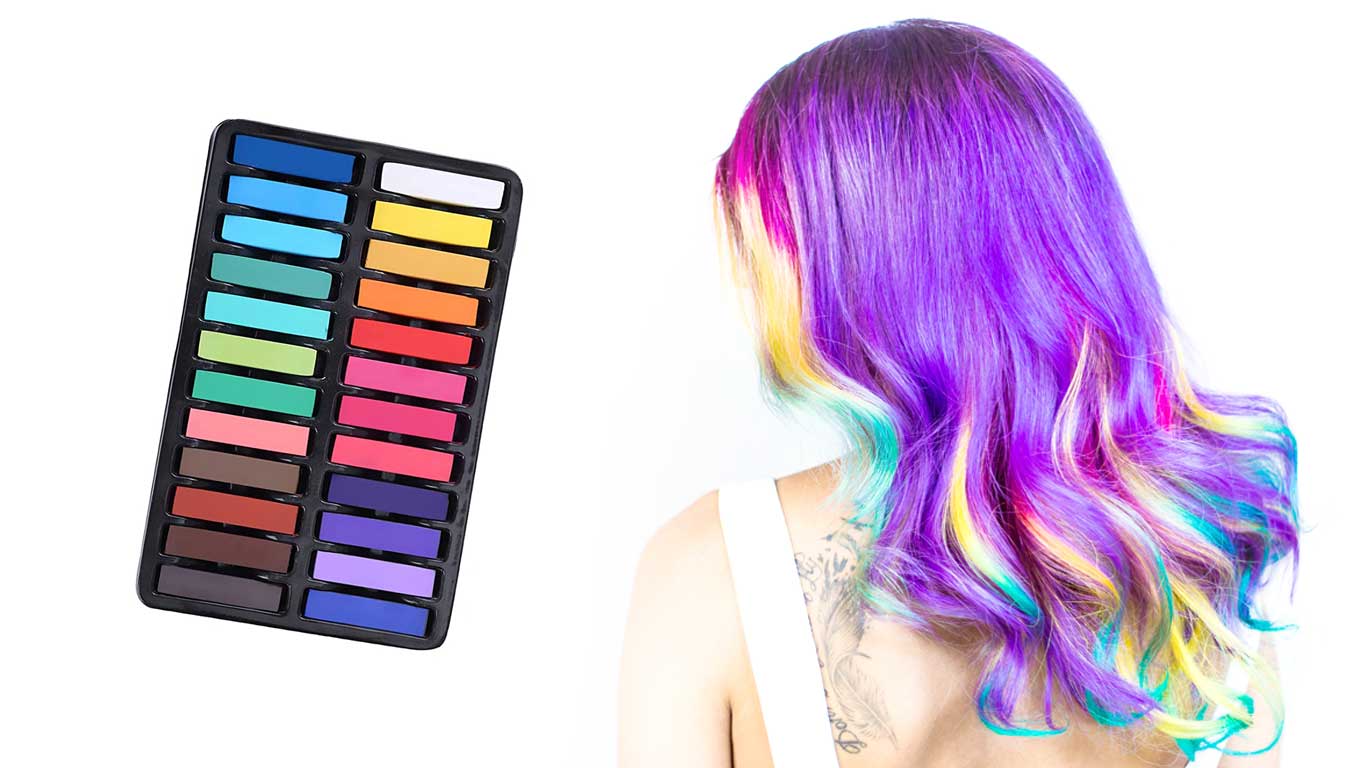 One of the easiest ways to colour your hair temporarily is to use hair chalks. This process involves repeatedly sliding the chalk on your dry hair until there's a good amount of your desired colour. You can also twist your hair into a thicker strand to get more colour off the chalk. Do not brush your hair right after application as this can cause the colours to come off.
While you don't have to worry about stickiness with hair chalk, it can rub off on your body or clothes if it makes contact. That is why it is best to use a hair spray on the coloured hair once you're done to not only seal it, but give it a more permanent finish. Alternatively, you can flat iron or curl your hair to seal the colours.
Just make sure to remember that this is a super temporary option while it is also advised to be careful around water or rain. Once you're ready to take it off, simply wash your hair with shampoo and it's all gone.
Hair colour gel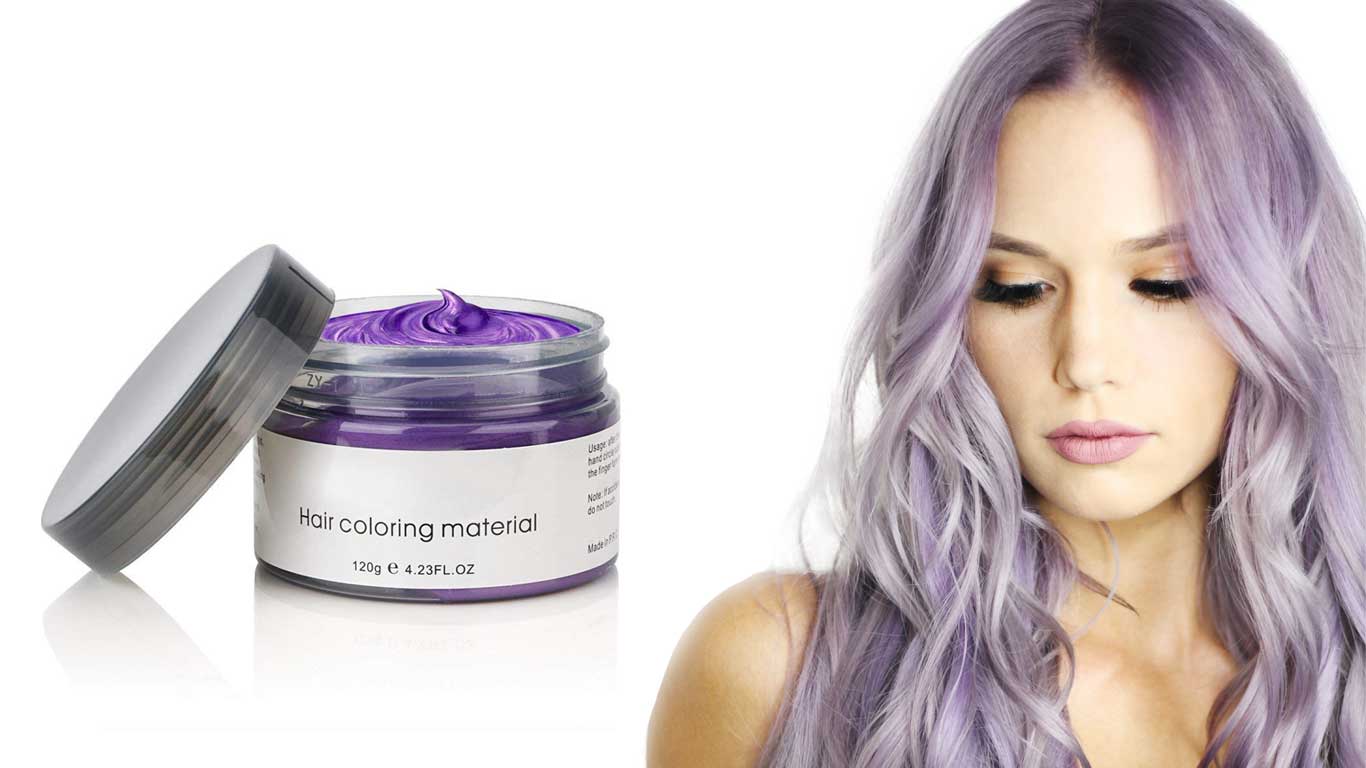 Another option at your disposal is a temporary hair colour styling gel which should come in a wide range of colours. Just purchase a gel that is designed for temporary dyeing and apply it on your hair as you would with any other regular gel. The benefit of this is that you can both dye and style your hair at the same time. While some colour gels may not provide a strong hold along with a temporary dye, it should be no problem applying a regular strong holding gel afterwards.
Many colour styling gels also come in various funky and neon colours giving you plenty of options when it comes to styling your wig or hair extensions. Once the festivities are over, you just need to wash your hair and the gel should come out right away.
Demi-permanent hair dye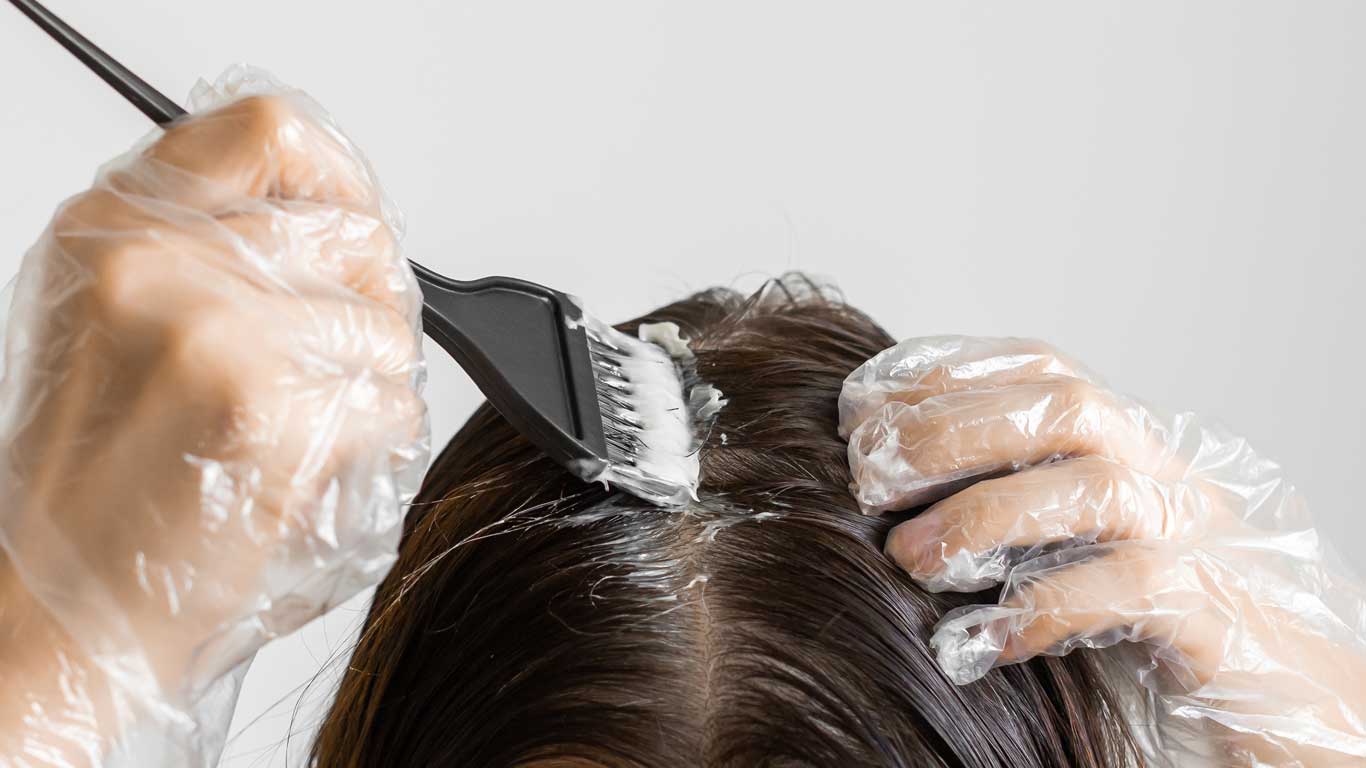 A safe way to temporarily colour your hair is using a demi-permanent hair dye. This hair dye comes in either a cream or liquid form and is ideally used for covering grey hair, adding highlights and lowlights or adding shine to colours. Compared to a semi-permanent dye, demi-permanent colours only enter the first layer of the hair strand which allows it to blend with the natural hair colour and not damage the hair cuticles as a whole.
However, it should be noted that demi-permanent dye gradually fades over time with around 12-25 shampoo washes required for it to go completely. While that can be a downside for some who simply want to colour their hair for Halloween, it's great for others who either want to keep their new look for a short while or have many social outings on their calendar.
Hair colour spray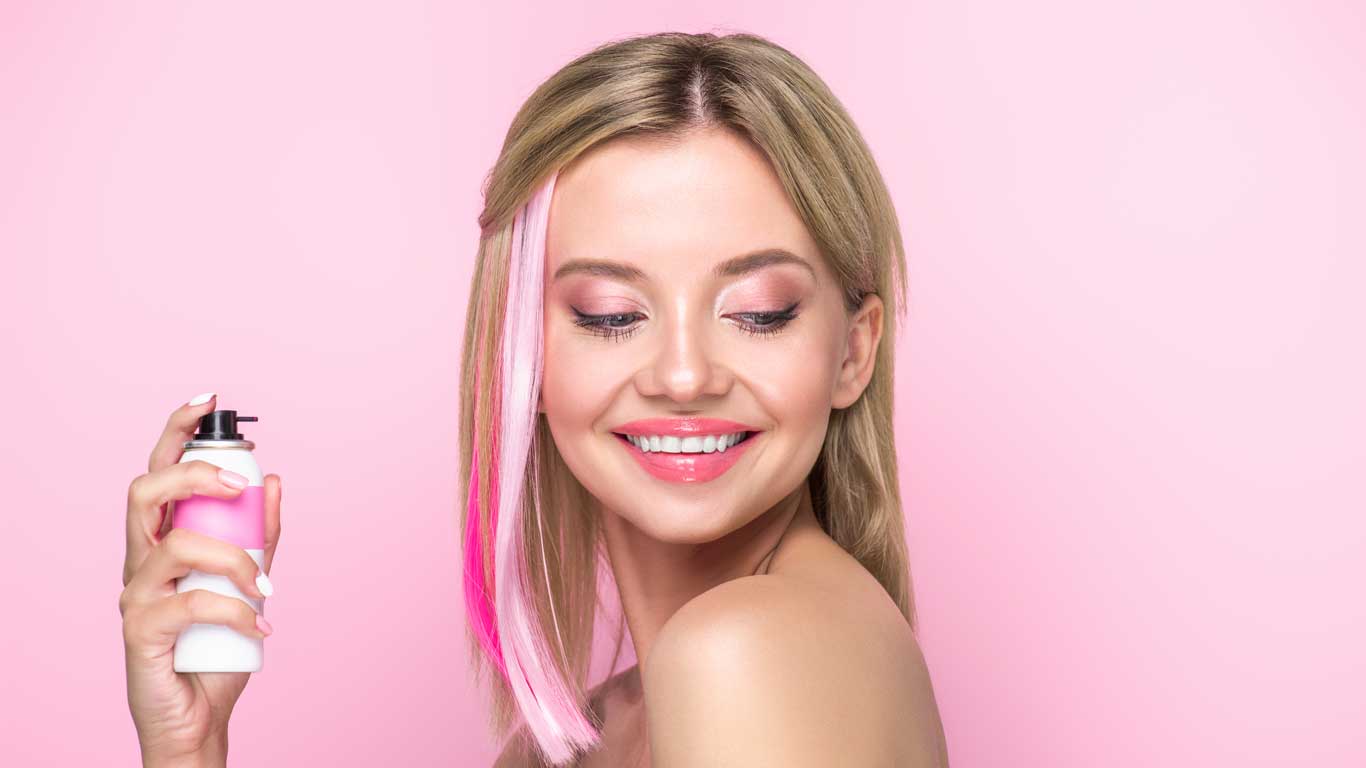 Another convenient option is using hair colour spray which is probably the easiest option to get on this list. Just about every Halloween store or even a Shoppers Drug Mart will have some sort of colour spray which not only temporarily dyes your hair, but also keeps it in place if you're styling it a certain way.
All you have to do is spray it on the sections of your hair that you want coloured. Not all colour sprays also come with a strong hold, but that's not a major problem as you can use any strong hold hair spray to set it once you're done. And just like a hair gel, colour spray should wash out immediately when you wash it afterward.
Clip-in hair extensions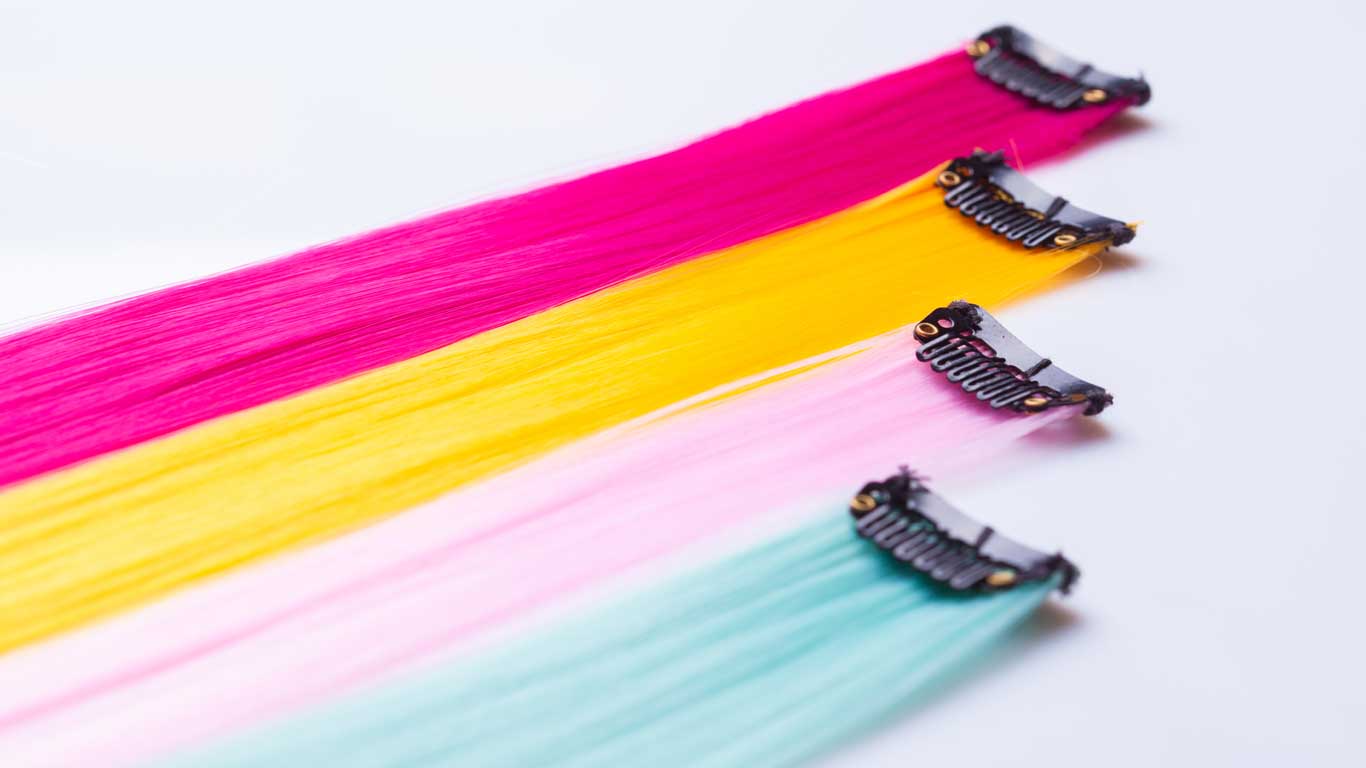 If you want the most temporary of solutions without the use of any chemicals as far as dying your wig or hair extensions are concerned, why not just use the latter themselves and get some colourful clip-in hair extensions installed?
Clip-in extensions are actually meant to be worn for one-time or special occasions before they are taken off at the end of the day. That makes them a perfect option for anyone looking to wear some funky colours for Halloween. They can also be manually installed and removed in a matter of minutes without having to go to a salon or a hair professional. The best part? They can potentially last upto a year if maintained properly (and not worn everyday) which means you can use them for any other special occasion or just reuse them for Halloween next year!
Assuming you're not wearing clip-in hair extensions already, you can browse through our selection and choose the hair quality, length and colours that you desire. From there, you can style it anyway you want to get your desired look for Halloween!
Tape-in hair extensions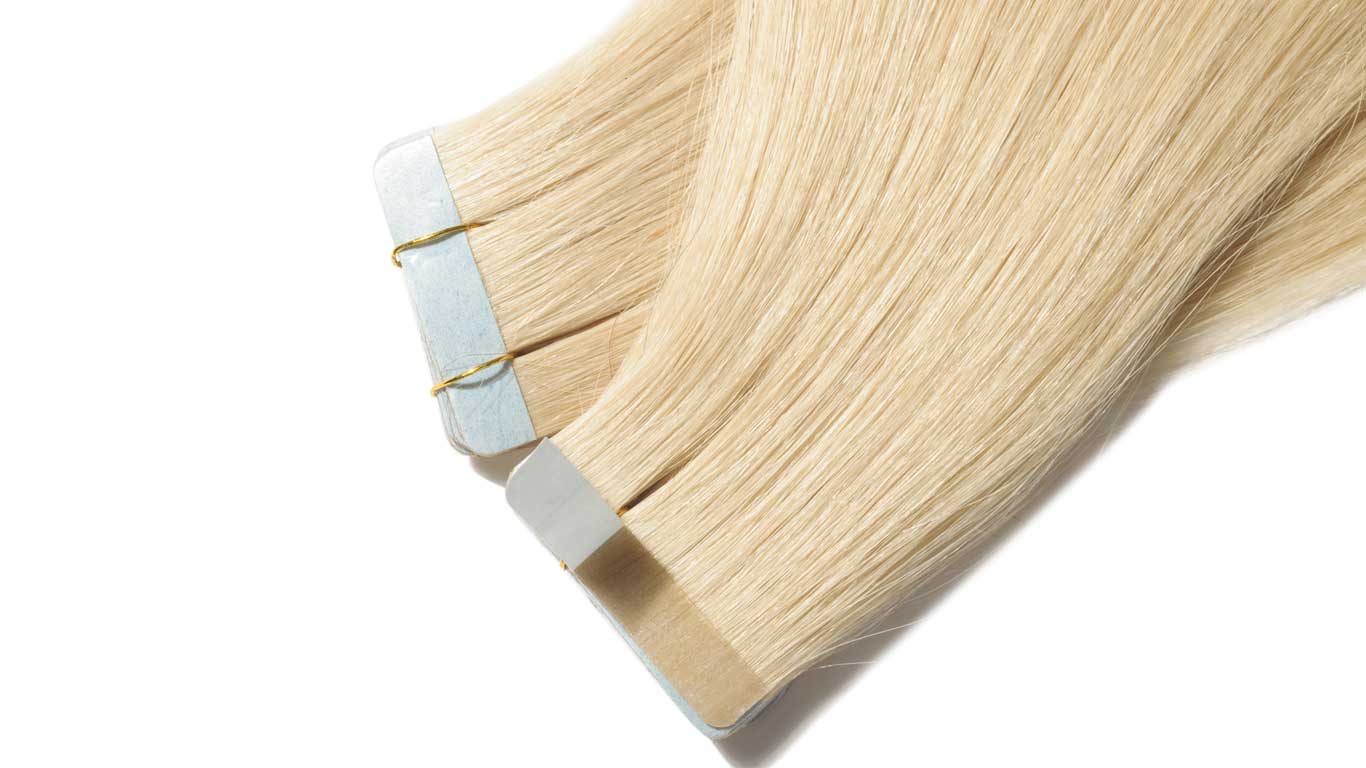 Alternatively, you can also wear temporary tape-in hair extensions to achieve the colourful look you desire. While tape-ins are more semi-permanent than clip-ins, they remain one of the few types of extensions that can be manually installed and removed by the wearer themselves without the need of a professional or salon.
Although the installation process takes a lot longer than with clip-in hair extensions — ranging from 30 minutes to even more than an hour depending on the person — tape-ins are lightweight and blend with one's hair much better than clip-ins. So, if you prefer a more comfortable and natural look than clip-ins, you can certainly opt for tape-ins and remove them once you're done! You can also spice things up by experimenting with different colours using our funky coloured tape-in extensions.
-----------------------
Interested in learning more about wigs and hair extensions? Browse through our website at www.superhairpieces.com (US & International) or superhairpieces.ca (CAN)
Don't forget tag us at @Superhairpieces and #Superhairpieces on your social media channels to get a shoutout!