Base
French lace full head wig

Features:

Durable

Breathable

Very natural looking

Disadvantage

Not Flexiable with size, better order with a template

Works best with hidden front hairline
Note for all CUSTOM Orders:
All custom hair systems may be resubmitted for changes such as color, density, etc. at within 10 days:
If we made a mistake we will correct the problem and cover all shipping costs. This result will only occur if the custom order does not match the specifications on the order sheet.
If the customer made the mistake they will incur any cost to fix the problem (if they want it fixed) along with the shipping costs. We offer corrections on custom systems provided the customer does the following: They must first give us an opportunity to correct any errors such as density, color etc. Then we will send back the corrected hair system to them. If the Customer chose the wrong color, sized base, type, length, style, etc., then we will charge a fee of no less than $55.00 to correct the problem. Additionally any extras such as rush, super rush or extra hair length charges will not be refunded.
We can only guarantee the order as submitted by the client. If the client choses the wrong specs they are responsible for any additional costs. We are more than happy to assist our clients but we are under no obligation to do so.
THERE WILL BE NO RETURNS OR REFUNDS ON CUSTOM ORDERS
Warranty: There is a limited warranty for hair loss within 30 days of the purchase. If you have lost more than 15 % of the hair during this period, we will fill up the hair for you and do our best to slow down the hair loss. However we cannot guarantee that you will not experience any future hair loss issues after the factory repair. There is no warranty for color, Cut, thinned or trimmed hairpieces, etc., within 30 days of purchase date. However we will try to help you solve any issues you have.

If you are in the USA please ship your hairpiece to our Florida office to save your shipping cost as well as any import issues.
SuperHairPieces
13790 NW 4th St, Suite 102
Sunrise, Florida, 33325, USA
If you are in Canada or any other country please send your hairpiece sample to our Canadian address, mark on the package, hairpiece for return and do not claim higher than value to avoid the custom duty and entry hassle.
By purchasing this products, you agree and adhere to the terms and conditions associated with the policies of SuperHairpieces.com and their guidelines in making changes to custom orders. You also accept responsibility for all the specifications you made when placing the order and will not hold it against the company if it should not turn out as you had expected it to.
Custom made Hairpiece Delivery Time

Regular

Rush

Super Rush

Mens Toupee

9 weeks

7 weeks ($30 Extra)

6 weeks ($60 Extra)

Mens Wig

11 weeks

9 weeks ($30 Extra)

8 weeks ($60 Extra)

Mens Frontal, Parting line, Crown Patch Hairpiece

9 Weeks

7 weeks ($30 Extra)

6 weeks ($60 Extra)

Mens Hairpiece Repair

7 weeks

5 weeks ($30 Extra)

1 week ($80 Extra, Not Including delivery time and delivery charge)

Womens Top Hairpiece

9 weeks

7 weeks ($30 Extra)

6 weeks ($60 Extra)

Womens Wig

12 weeks

10 weeks ($30 Extra)

9 weeks ($60 Extra)

Womens Hairpiece Repair

9 Weeks

7 weeks ($30 Extra)

6 weeks ($60 Extra)
Return Policy: Stock Hairpieces
You have 15 days from the date of purchase to return your untouched hairpiece for a full refund, minus the shipment paid.
A restocking charge of $15.00 or more per item will be automatic applied if the returned item is not in its original condition and packaging.
If you have selected a final sale option, such as base cut, hair styling, bleached knots, perm, or any service that alters the hairpiece permanently, the hairpiece can no longer be returned or exchanged.
Any special requirements need to be addressed at the time of the order being placed.
Return Policy: Hair Extensions
Returns accepted within 2 weeks of ordering, they must be in their original condition and packaging.
After 2 weeks an 80% credit of the value will be added to your account towards future orders.
Large returns are subject to a handling fee.
No returns after 3 months of ordering.
Return Policy: Supplies
All supplies are final sale and cannot be returned or exchanged under any circumstances. This policy is strictly enforced.
Overstock and Final Sales Items:
All items located in the overstock and clearance category are final sale, no return, no exchange, no refund.
All online services items including base cuts, haircuts, perms, bleached knots, and coloring are all final sale. There is no return, no refund and no warranty once the hairpiece has been permanently altered.
Click here for more detail
Frequently Asked Questions
There's a good chance you will get your custom order placed in January or February in May (2-3 months waiting time).
However, with all the disruptions and uncertainties during the pandemic —and depending on the type of hairpiece you order— the average waiting time for custom orders is 5-6 months.
Here's how it looks now in May 2021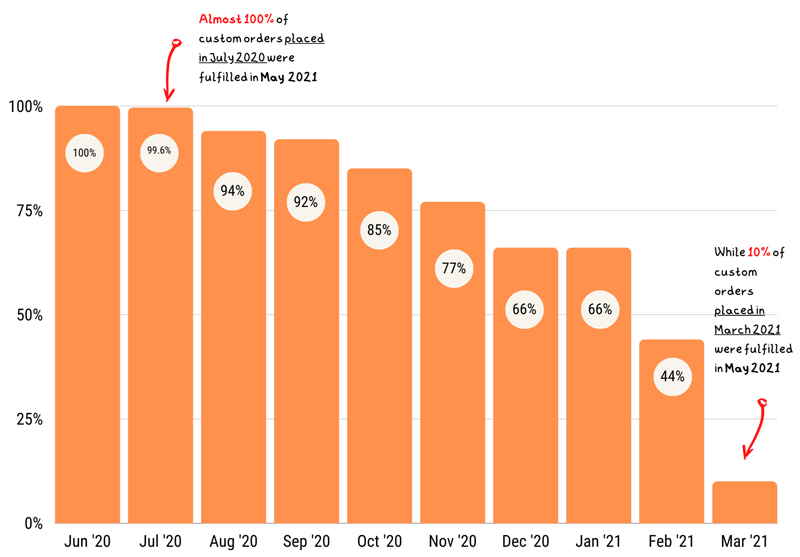 And here's our custom order fulfillment progress in 3 months (since March):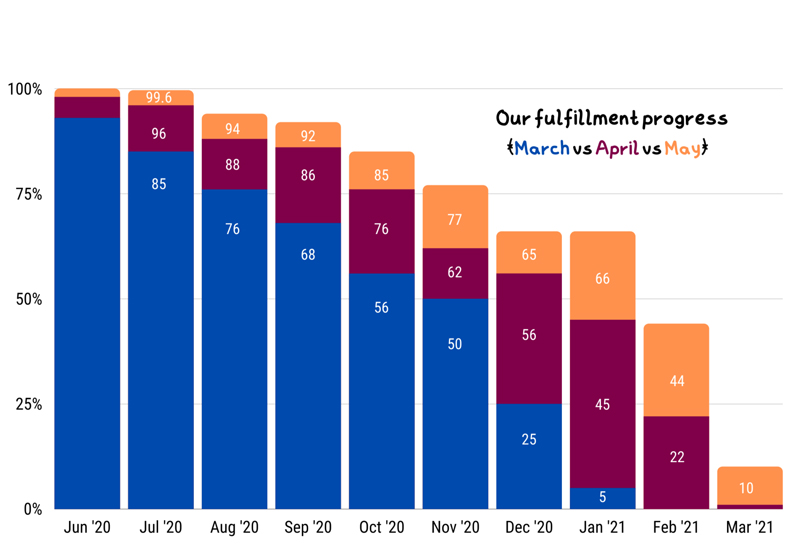 ×